The ReX-T Pattern Library

The Pattern Library
One of the most important features of ReX-T is the pattern library. It comes preloaded with examples for most Regular Expression pattern elements, and a few useful complete search patterns.
You can access the pattern library from the "Pattern Library" button in the top right corner of the main window.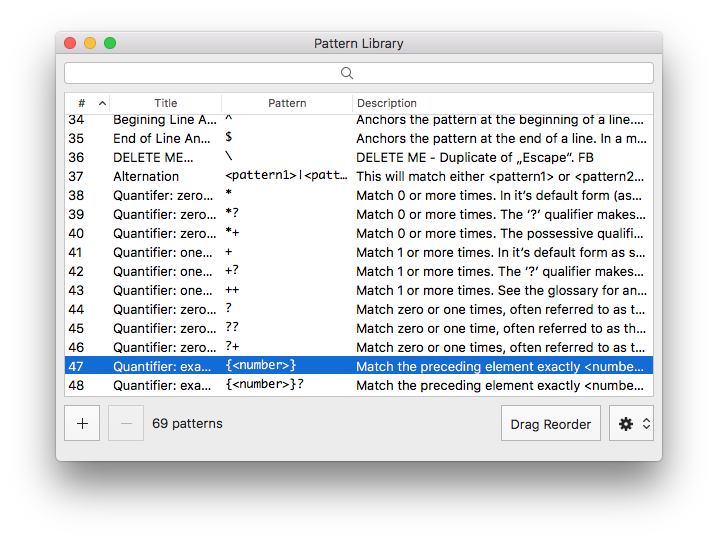 Every library item contains a title, a description, and the actual Regex pattern. In addition to that, some patterns contain examples explaining their use.
To use any of these patterns in ReX-T, just drag the row from the library to the main window and drop it in the Search Pattern field.
To see details about a pattern, just click on its row.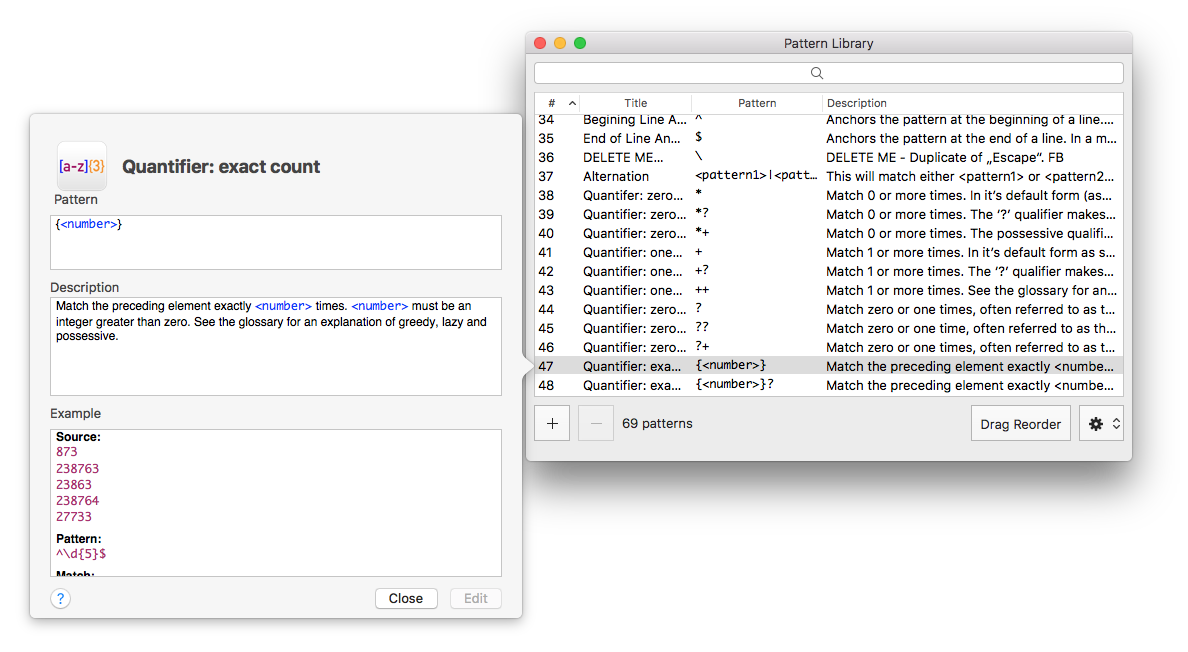 Most of the pre-installed patterns come with an extensive explanation and usage example.
Add your own patterns to the library
The library is the ideal place to store your own patterns. You can save a pattern that you have entered in the main window by clicking the Save Pattern button.
Enter a pattern into the Search Pattern field on the main window.
For best results, also enter some Source Text, and click the Search button.
Then, click the Save Pattern button in the top right corner.
Your pattern will be added to the library.
Click the Edit button to enter a title and description for your pattern or change the stored pattern.
If you want to, you can create a usage example for your own pattern. See the Edit Library Patterns page to see how to do this.
Export your library
You can export the contents of your pattern library in two formats: JSON and RTF.
Use the JSON format to share your pattern library with others; ReX-T can import these JSON files into the library.
Use RTF to create a human-readable export, for example if you want to print parts of your library for reference.
To export your library, click on the popup menu with the gear symbol in the lower-righthand corner of the library.
Manage your library
To delete patterns from the library, select the pattern row and click on the "-" button.

To find a certain pattern in your library, you can filter the library entries by entering something into the search field at the top of the library window.

Sort your library by clicking on the column headers.
Reordering
To reorder your library, click on the Drag Reorder button. The library will the enter the Drag Reorder mode; while in this mode, you can reorder the patterns by dragging them to their desired position.
When finished reordering, just click the Drag Reorder button again.